Welcome
Quest's fundamental philosophy is that superior service is the key to customer satisfaction. Our dedication to this basic principle has made Quest one of the leading and fast growing generic pharmaceutical wholesalers in the country.
Quest is an authorized distributor for more than 50 manufacturers and sells over 3000 generic products nationwide. We pride ourselves on providing high quality products at the lowest possible prices with an unmatched dedication to service.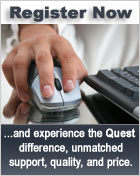 Generic Specialists

Everything we do at Quest is about generic pharmaceuticals and customer service. It is all we do. Our focus is on you, our customer, and your success in the market.

Personal Service

A dedicated and experienced sales professional will be personally responsible for your account. We welcome the opportunity to demonstrate our flexibility and willingness to work with you.

Competitive Prices

We invite you to compare and save. Quest Pharmaceuticals guarantees that our products will always be competitively priced, but that we will never sacrifice price for quality.

Quality Products

Quest is devoted to supplying only the highest quality products. Our pharmacist-owner oversees purchasing decisions. Great care is taken in the decisions concerning which particular items become part of the product line at Quest.

Extensive Product Line

Quest stocks over 3000 generic pharmaceutical products. Our fill rate of over 98.6% ensures customers the products they need when they need them.

(Read more...) Our Keys To Customer Satisfaction
Our Promise To You...
We like to do business the old fashioned way - on a handshake. So, in keeping with the spirit of these simpler days, here's our Handshake Guarantee.
You must be completely satisfied with your Quest order. If you are not, then we will correct it... Free ... or pick up the order and refund your money. It's your choice. It's a simple straightforward commitment that is our way of letting you know we appreciate you and your business.
We are dedicated to our customers' satisfaction.